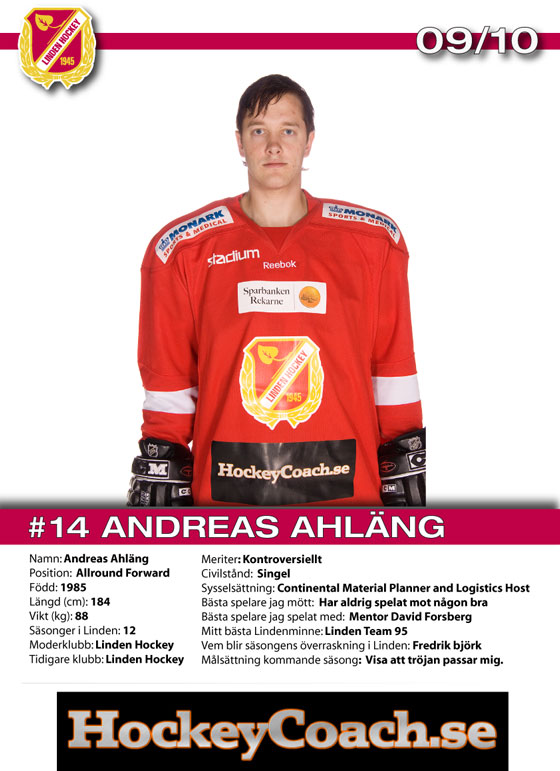 How would you describe your self as a hockey player?
In the rink: A power forward who is pursuing at all times and I always stand up for the team. I look at the referees decisions consistently, which is probably quite rare for hockey players, the background to it is probably in 8 years as a referee. I'm a physical player and would put myself rather as a hard working hockey player than a technically skilled one. I'm the type of player who is not afraid to go into front of the goal or throw themselves to cover the shots, to give 100% in every situation is a motto.
Outside: When it comes to preparations for training and matches, I am only thinking of eating right, even if it happens sometimes that I visualize before, it's more common that I do not focus on the match or training until I walk into the rink with skates on, that is simply to avoid spending energy on being nervous or other things, this way I feel all the energy is used on the ice. Otherwise I try to see things from the positive side, having fun and close to laugh are also important for me, and also to be there if somebody needs your help. I always strive to have good order in, and around the team and I am often the one who switch on the washing machines in the laundry room before I go home as one of the last leaving the locker room and stadium.
What are your strengths as a hockey player?
My skating, game understanding and will-power.
What do you want to improve the coming hockey season?
Puck-handling is something I definitely can improve i.e. be more cool and patience when having the puck. I feel that I sometimes get too stressed to dump the puck in to the zone or send the puck to a quick icing. To remain calm in these situations is worth gold, especially with the new icing rule which does not allow the defending team to change players when they shoot the puck to icing.
What are your individual goals for the coming season?
In past years, my role has been as a link in a checking line (game destructive line), with some fights involved. This year, I intend to walk out of that role in order to find a more playing role (constructive) and place me in the middle of the internal scoring list. With a role as a "game destructor/checker", I feel that I have not been developing as a hockey player and that I have used my hockey skills the right way, but this is about to change now, a good development curve and learn from mistakes are my main goals with this season.