Some Hockey Highlights from Linden Hockey Team-83
Linden Team 83 record from the last season as boy team players (These players were moved to the B-junior team 1-2 years before the "right" age)
67 games, 56 wins, 5 draws and 6 losses, 350 scored goals and 138 goals against.

1 st place in league (region)
1 st place in the play off's (region)
1 st place in neighbour district league
1 st place in the district tournament/cup
2 nd place in JYP HT (Finland) tournament
1 st place in Sherwood Cup
1 st place in Kumla tournament
1st place in New Years Cup
1 st place in Borlänge International Hockey Tournament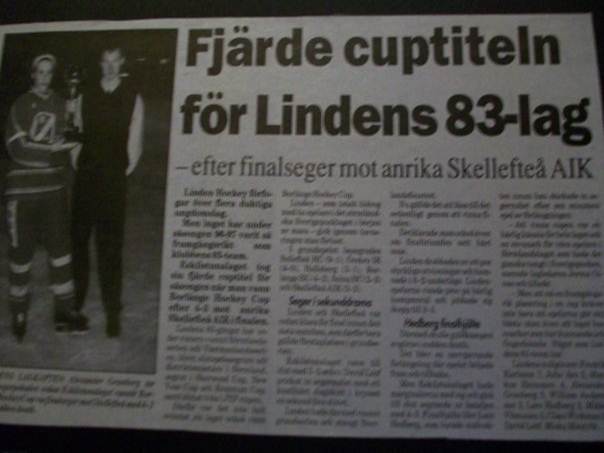 Fourth Tournament win for the season, victory against Skellefteå AIK in the final.
—————————————————————————————————————–
Linden's 83-team on a successful hockey adventure to Czech Republic
98-99 Hockey season is over for Linden Hockey's 83-team. A season that ended with an expected hockey trip to the Czech Republic. 59 people (players, coaches and family members) were present during the nine-day adventure. -We are very pleased with this trip and is already talking about us to go away next year, says team leader Jorma Oinas.
Mlada Boleslav and Hockey sponsor Skoda's guest hotel
The hockey team had nine pleasant days in the Czech Republic. The club is already planning to go back. Behind the success of the Czech Republic trip was first-team coach in Jan Votruba, who helped Linden's 83-boys in arranging the hockey trip. Votruba also met up the Eskilstuna Hockey team once inside the Czech Republic, for onward escort along winding mountain roads to Mlada Boleslav and Skoda's guest hotel where the team lived during their stay. Mlada Boleslav is sixty kilometers northeast of Prague and has about 120 000 inhabitants. In the city you will also find Skoda Cars factory and team made visits to both the Skoda automobile museum and the car factory.
Hockey Games against teams from Czech first league (Elite League)
-We were there to socialize and have fun. Hockey got a little bit overshadowed, said Oinas. Linden Hockey still managed to play three hockey matches in the Czech Republic. Linden fell against Liberec (2-8) and Mlada Boleslav (2-10), but won against Slavia Prague (6-5). All the opposing hockey teams can be found in the Czech first league (Elite League).
Theresienstadt, a former concentration camp from World War II
Eskilstuna team also did many other things as a guided tour of Prague (Old Town) and a study visit to Theresienstadt, a former concentration camp from World War II, on the way home. -The visit to the Theresienstadt was perhaps the most important throughout the trip and left no one untouched, says Oinas, who is very satisfied with finishing the trip. -The trip was well planned and everything worked out one hundred percent. In addition, the team had a lovely spring weather in Praque.
In Trelleborg with a damaged tank
The only trouble was a few snags with the bus, which on the return journey was standing in Trelleborg with a damaged tank. After four hours of waiting the trip home continued with a new bus to Eskilstuna. -Linden's 83-team has set Eskilstuna on the hockey map in the Czech Republic and we would like to see the Czech hockey teams come here to visit. -Finally, we want to express gratitude to Jan Votruba. Without his help we could not have done this trip, says Jorma Oinas.
The original article in Swedish >>